Available high temperature:
Calcium/Manganese (CMO) TEG modules up to 800°C hot side CMO ONLY!
Cascade (High Temperature (CMO) bonded with Bi2Te3 cold side. Up to 600°C
These are the first Cascade Thermoelectric TEG modules ever to be available commercially hot side up to 600°C.
Introducing a new Cascade design that works up to 750 °C available soon check back on a regular basis!
CMO materials are extremely stable and will last up to 50 years with little or no degradation. They are the first high temperature material in this temperature range to be offered in the last 40 years!
Size:
65 mm x 65 mm – 64 element design with 32 P & N-type Couples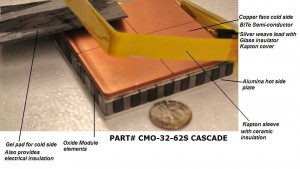 Part # CMO-32-62S CASCADE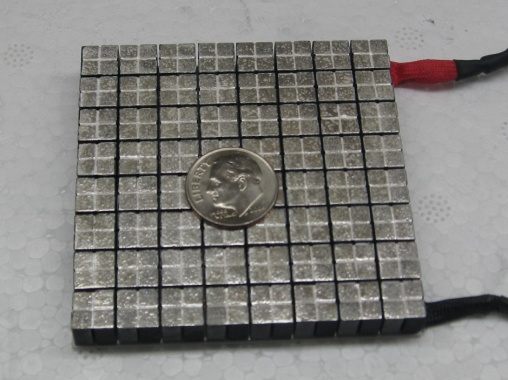 Part # CMO-32-62S
(High Temperature CMO Calcium/Manganese semi-conductor material Thermoelectric Power Module)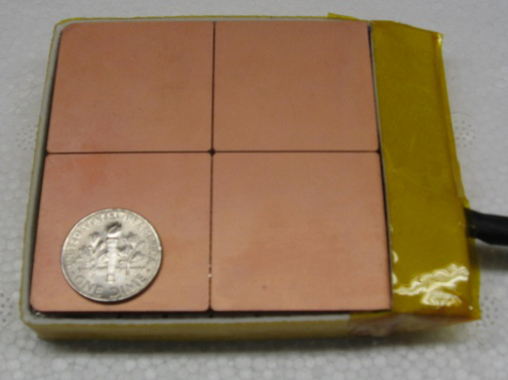 Part # CMO-32-62S CASCADE
(Calcium/Manganese semi-conductor material with a second layer of Bi2Te3 on cold side with a combined efficiency of ˜6%)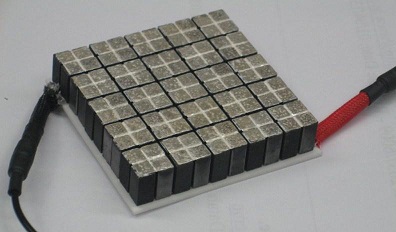 Part # CMO-25-42S
Features:
Cold side view with 25 couples
Size 42 mm x 42 mm
Silver (Ag) leads with glass fiber insulation
Design for temperatures up to 800°C

Additional Features:
NEW SIZE IN STOCK
Part # CMO-25-42S
Size: 42mm x 42mm (CMO) 25 couple P & N-Type