Dear All,
As some of you are aware, our Thermal Electric Generator – Pizza Oven Waste Energy Recovery (a.k.a. TEG POWER) research project with Pizza Pizza, Thermal Electronic Corporation and Acrolab was profiled as one of eight hand-picked projects to be featured in the Ontario Centre of Excellence's 2014 annual report this year and was showcased at the OCE AGM on Tuesday October 21st. A link to the success story found in the Annual Report can be seen at http://www.oce-ontario.org/our-companies/success-story/2014/10/22/pizza-pizza. As mentioned in the Return on Innovation section of the success story profile, the reward was not only the successful demonstration of this emerging technology but all of you, "seven graduate students, twelve undergraduate students and [Hossam Sadek] worked on the project over two years". What you have accomplished is amazing and I am incredibly proud to have worked on this project with you each of you. This undertaking was extremely ambitious in scope and the outcome was challenged by some in the early stages but thanks to all of your efforts we delivered (as they say in the Pizza industry)!!!
The TEG POWER demo was a major success and incredible well received. With only three Chafin Fuel style burners, a scaled version of the TEG POWER prototype was able to produce 30 W of power and was used to run the pump and operate autonomously, power four 700 Lemans LED lights (equivalent to about four 60W Incandescent light bulbs) as well as the LED sign which read "Hello OCE from TEG POWER". Check out OCEs twitter feed at https://twitter.com/OCEInnovation/media  . This would not have been possible without all of your hard work on the project, but a special recognition must go to Jeff Girard, Michael Cino, Rafat Hirmiz, and Yakoob Hana who worked tirelessly on the demo to bring this all together for the showcase. Check out the photo I received Monday night at 9:41pm….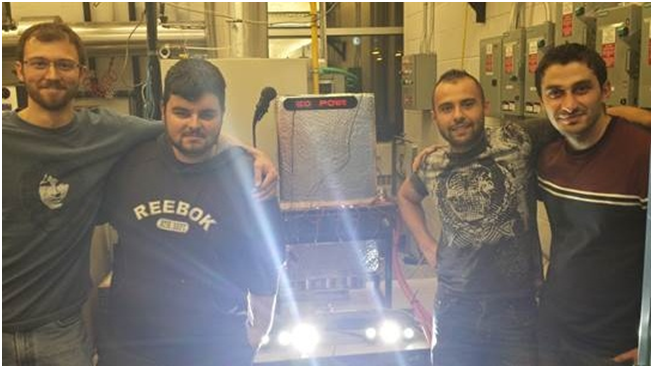 During the Showcase we had the opportunity to talk with Dr Reza Moridi, the Honourable Minister of Research and Innovation, (pictured below with Paul Goddard CEO of Pizza Pizza) and he was very impressed with all of your efforts. His comment that struck me the most was "You are going to change the world with this research", something that I agree with completely.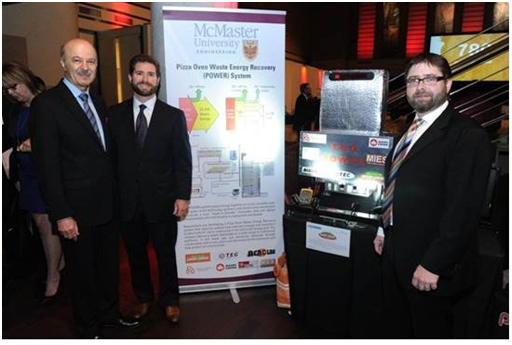 I would like to extend a special thank you to our all-Canadian industry partners who are truly global leaders of innovation for seeing the value in this emerging field of energy harvesting, Pizza Pizza, Thermal Electronic Corporation and Acrolab, and to our Innovation Champions from NSERC John Jackson, Sarah O'Neill and Monika Michalska and from OCE Gillian Sheldon, Robert Stasko, Thomas Gehring, Rebecca Tran, John MacRitchie, Ross Bradsen and Bob Civak. Thank you.
There is still a lot of research and development required to advance the state of the art and commercialize but I have an announcement: We have recently been advised that we were awarded an NSERC Ideas to Innovation award for the grant HARvEST Systems – "Heat and Recovered Energy Storage Technology" Systems with the aim to prepare TEG POWER for commercialization. Congratulations everyone!
As we continue on with our research and commercialization efforts into the next phase of the TEG POWER system integration and energy recycling and the development of our next generation made-in-Canada TEGs, I have full confidence that through working with a great team like all of you we can only be successful.
Thank you again and Best Wishes
Jim
Dr. James (Jim) S. Cotton, P.Eng.
Professor,
Associate Director, McMaster Institute of Energy Studies
McMaster University
Department of Mechanical Engineering
1280 Main St W.,
John Hodgins Engineering Building Office: JHE 212a
Hamilton, Ontario, CANADA, L8S-4L7
Tel.:  1-905-525-9140 Ext. 24899
Fax:   1-905-572-7944