THERMOELECTRIC POWER MODULES 190C (375F) FOR LIQUID TO LIQUID APPS
TEG2 series modules are CUSTOM designed for liquid to liquid thermoelectric power generation and energy harvesting applications. TEG2 modules are designed for temperatures on the hot side below 200°C. TEG2 custom series modules are designed for maximum heat flow (TEG2-07025HT-SS) when using liquid to liquid designs because liquid can carry and take away extreme amounts of thermal energy compared to teg air designed systems.
Just the opposite is true for our TEG2-126LDT module (Bottom of page) it is designed for the opposite effect. Harvesting body heat requires slow moving heat to maintain an expanded DT. A thick element TEG module accomplishes just that with no seal so, there is no thermal bridge path. The DT is maintained guaranteeing effect power production with minimal temperature difference.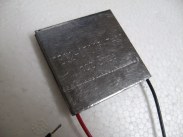 TEG2.1-070HT250-SS
Specifications and performance Data Sheet

Features:
SnSb 240°C Based solder Hot and Cold side.
Ceramic slit for multi thermal cycling applications both hot side and cold side ceramic.
Lapped for multiple TEG modules on the same surface.
Teflon insulated on the lead wires.
Lead wire contacts are attached to cold side for extra protection.
Offered in Graphite cover or plain ceramic.
Typical application of the TEG2-07025HT-SS module
   Click on  part number for  Energy Body harvesting  module  TEG2-126LDT
-Works up to 190°C continuously but designed for 0C to 50C applications range.
-Used in designs for Body heat scavenging.
– wireless sensors
– specially designed for low Delta Temperatures application in the under 50°C.